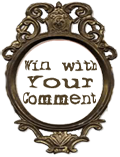 Winner this week
"Nikki C".
If you like my cards/ bookmarks, you can get one for free.

I love to get comments!
I want to show my gratitude by randomly choosing
one of you who comments anywhere on my blog,
and the one who wins, can choose between a bookmark
or card in whatever shape you like, handmade by me.
If you win
Send me an e-mail under Contact
with following information:
Your name and address?
Bookmark or card, what shape?
What motive you like?
What color you like?
Name/text or other wish?
Winners
Here I will link to the winners blogs if there´s any,
and to the prize when I put it up at my blog.
10. Nikki C
9. Pendra
8. Lindha
7. Eva » Card
6. Lindha
5. Maja
4. Kicki_nr1
3. Susanne
2. Snojbi » Card
1. Eva-Lena » Bookmark