Scroll down for English.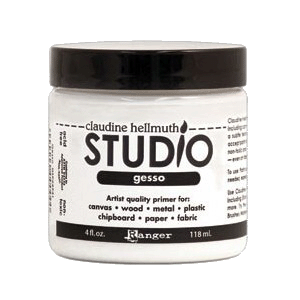 Gesso är en blandning av puts eller kalk och limvatten, ibland även andra ämnen och används vanligen i samband med tempera eller olja. Gesso kan även modelleras i relief. Numera använder de flesta akrylbaserad gesso. Syftet med gesso är att hindra den oljebaserade färgen att "fräta" sönder underlaget.

Det är smidigt att grundmåla med gesso innan man använder sig av tex. Distress Crackle Paint. Jag upplever att crackle paint gärna vill lossna på en del underlag. Eftersom gesso ger det en slät, absorberande, vit grund så gör det att annan färg fastnar bättre.

Jag grundar alltid med ett tunt lager gesso innan jag målar med annat, och jag får ett hållbart snyggt resultat. Du kan även grunda med gesso innan du använder olika spraymister.

Gesso används ibland som gips, det vita mineralpulver som blandas med vatten till en massa, vilken stelnar till fast form och används av skulptörer för formar och avgjutningar.

In English

Gesso is a mixture of plaster or lime and glue/water, sometimes also other substances and is usually used in connection with tempera, or oil. Gesso can also be modeled in relief. Nowadays most people use acrylic gesso. The gesso is to prevent the oil-based ink to "cause corrosion" break the substrate.

It is handy to painting with gesso before the use of Distress Crackle Paint. I feel that crackle paint will fell off from some surfaces. Since gesso gives a smooth, absorbent, white surface, it makes another color sticks better.

I always use a thin layer of gesso before painting with another, and I get a durable-looking results. You can also base with gesso before using different spray mists.

Gesso sometimes used as plaster, the white mineral powder which is mixed with water to a pulp, which solidifies into a solid form and used by sculptors of molds and molds.