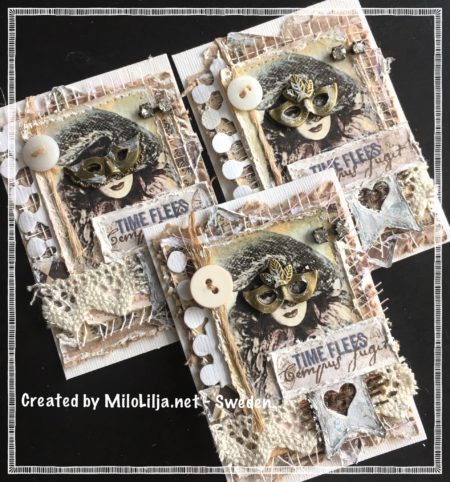 I've made those ATC cards for a trade at ART GRUPA ATC.
10 Responses to "Theme: Mask"

MakaArt
December 14th, 2016 at 17:34
Absolutely stunning work ❤

maj.
December 14th, 2016 at 20:51
Stunning! Love all the wonderful details!

mosia
December 17th, 2016 at 20:38
WoW! They're great!

Iwona create
December 18th, 2016 at 20:34
Fantastic! Beautifully arranged details – love!

Zuzana
December 20th, 2016 at 08:02
Milo, pls write me: zuzka.cedulova@gmail.com 🙂

Matilde
January 1st, 2017 at 20:24
It's awesome!

Janka
January 2nd, 2017 at 08:18
A breathtaking work of art! Love it!

Blue Nika
January 8th, 2017 at 22:09
Świetne ATC.

innaj
January 9th, 2017 at 11:52
Milo,that's awesome! If you want to change, please write me: innaj12@hotmail.com

Lawendowy Czas
January 10th, 2017 at 07:15
fantastyczne i gratuluję 🙂

Leave a Reply